We've got the storage you need!
People love using PeerStorage
Listing my space on PeerStorage has been a blessing! I am able to make money in these hard times off the space I never used. Not only am I putting money in my pocket but im also helping out someone in my community with their storage needs. This is a win-win solution for the both of us and we couldnt be happier!
Jake ⭐⭐⭐⭐⭐
Host
Love how PeerStorage gives me the ability to safely and affordably rent storage close to home. Finding a cheap and convenient place for my stuff was easy and interacting. Thanks PeerStorage!!
Lisa ⭐⭐⭐⭐⭐
Renter
I had too much clutter in my apartment when I moved, I needed low-cost and convenient storage. PeerStorage made booking and renting a breeze, and it makes sense moving my stuff from my house into another house. I would highly recommend PeerStorage to anyone looking for storage.
John ⭐⭐⭐⭐⭐
Renter
I can't believe how easy it was to list my space and find a renter. All I had to do was build my listing and the company did the rest. I make an extra $200 a month that pays for a fraction of my mortgage so it's like my listing is paying for itself! I would recommend PeerStorage to anyone who has extra space.
Tim ⭐⭐⭐⭐⭐
Host
Making extra money has never been so simple! I have had nothing but great experiences with renters and it work's out great for the both of us.
Hector ⭐⭐⭐⭐⭐
Host
Rahik was a great host and I loved the experience! There was plenty of space for my vehicle at a price I could afford! I would highly recommend his space to anyone looking for parking in Seattle.
PreetamB ⭐⭐⭐⭐⭐
Renter
I found PeerStorage while searching for a place to store our fifth-wheel trailer. I was able to put in a request to view the listing I wanted and close on the listing the same day. I highly recommend PeerStorage for all your storage needs!
Rebecca ⭐⭐⭐⭐⭐
Renter
I recently moved to the Tacoma area and was in desperate need of storage space while trying to move into our new home. During a stressful time, we were able to rely on PeerStorage to find the storage we needed at a cheaper price. Thank you PeerStorage!
Brittany ⭐⭐⭐⭐⭐
Renter
Featured Top Rated Storage
Top storage listings in your neighborhood
The Safest Way To Rent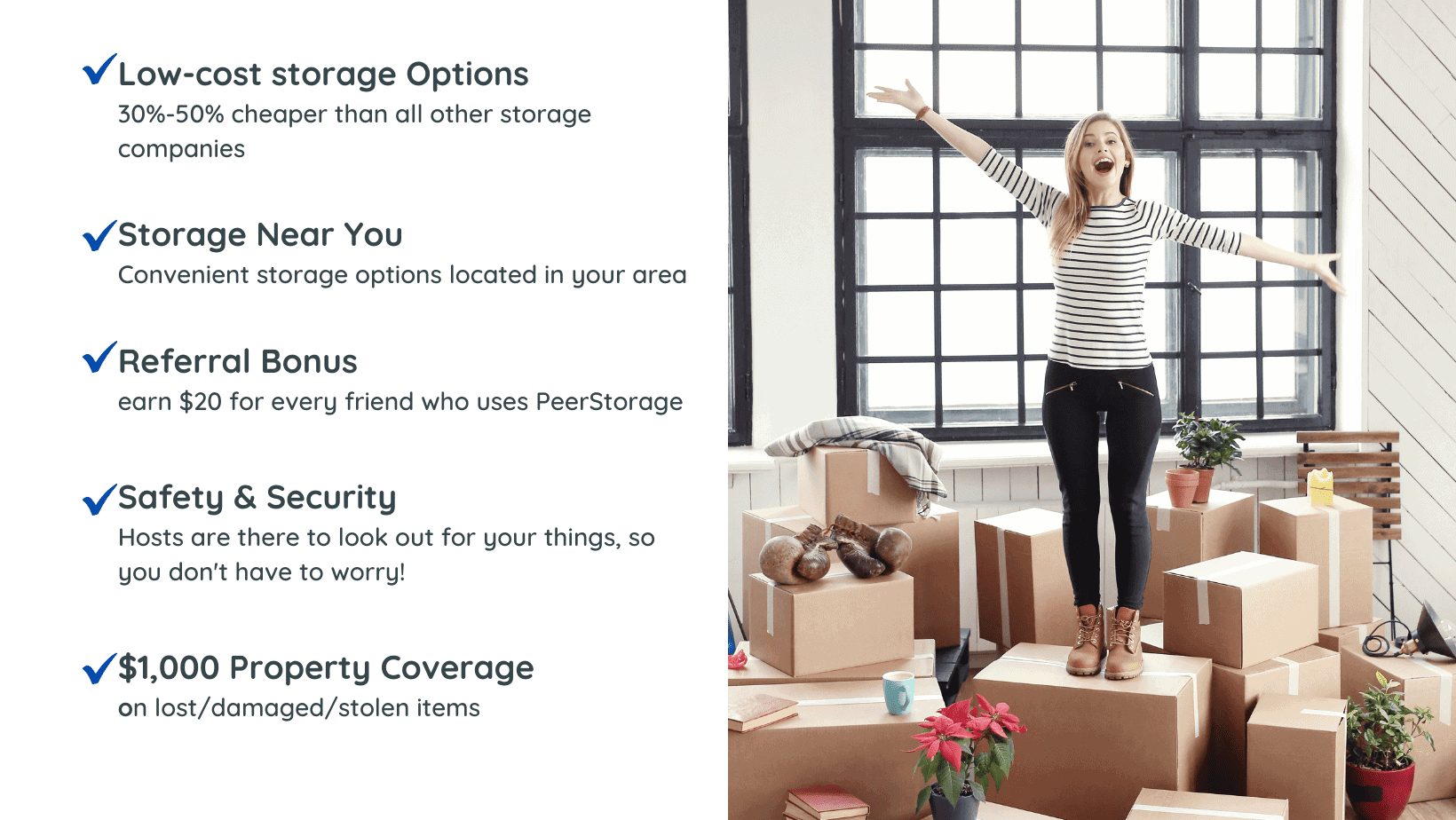 From Our Blog
Stay up to date on the latest storage and moving topics