Self-storage near Washington
Hosted by people like your
Bremerton
Burien
Cap Hill
Carnation
Duvall
Edgewood
Ellensburg
Enumclaw
Everett
Fall City
Georgetown
Grapeview
Issaquah
Kenmore
Kent
Kingston
Kirkland
Lacey
Lake Stevens
Lakewood
Marysville
Mercer Island
Mukilteo
North Bend
Olympia
Orting
Puyallup
Queen Anne
Redmond
Renton
Roy
Sammamish
Seattle
Sequim
Shelton
Shoreline
Snohomish
Snoqualmie
South Park
Spanaway
St. Helens
Tacoma
Tenino
Tumwater
West Seattle
About Self Storage in Washington
Washington state is the 18th largest state in the country by total area and has a population of about 7.8 million people. It's known as the birthplace of Microsoft, Amazon, Boeing, and Starbucks. With its wet winters and mild, relatively dry summer, Washington is also known for its mountain ranges, vast outdoor activities, and incredible evergreen forests.
Washington is a major tech hub for technology companies that also include agriculture food manufacturing, forest products, and environmentally-friendly products and services. Since half of the state is covered in forests, it only makes sense that the state produces the most lumber and plywood in the country. 
When looking for self-storage in Washington state, residents have plenty of facilities and private properties to choose from. Washington has a vast supply of self-storage units available with 95% occupancy (2022 Self-storage almanac). The majority of Washington residents are in the Puget Sound area, which is where a majority of self-storage facilities are located.
What kind of self-storage units are in Washington
Due to the wet environment, indoor self-storage with heating or climate-controlled is a must. Indoor storage is critical in the winter months, and a 10' x 10' non-climate controlled will cost you around $145  -$241 per month. Self-storage of any size will cost you around $66 – $410 per month per unit.
Washington Self-storage facts

1,244 self-storage facilities

46,464,276 rentable sq. ft. of storage space

3,257,185 total homes in Washington

6.61 sq. ft of self-storage space per person
What is PeerStorage?
PeerStorage connects individuals and companies with extra space with people needing self-storage or parking. We are considered the "Airbnb for self-storage." PeerStorage has self-storage available for cars, RVs, boats, household goods, seasonal goods, furniture, e-commerce product store, and more! We help you find local self-storage options in (state) at the cheapest cost. We believe you should be able to store with a Peer and feel safe and secure with your storage space.
How PeerStorage works
PeerStorage marches people that have vacant space with people seeking self-storage space. We're considered the "Airbnb for self-storage."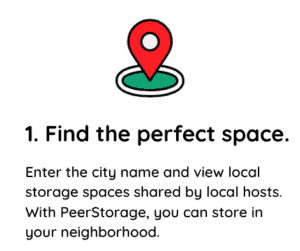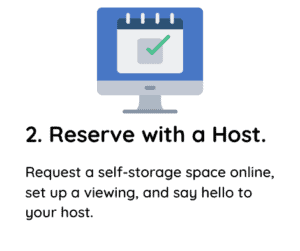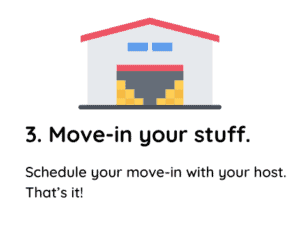 What is self-storage?
Self-storage is large, secure spaces of unused space located in units, residential homes, and facilities. These self-storage facilities are pricey and often inconveniently located in the city, industrial, and rural areas. Thankfully, PeerStorage helps you find self-storage options that are cheaper, safer and located near your residence.
Whether you're about to move, expand your business, or need a space to winterize your RV or boat, opting for self-storage can be an optimal solution. Typically rented on a month-to-month basis, self-storage unit prices could vary depending on location, size of the unit, amenities such as security, climate-controlled, and being indoors.
Self-storage units generally offer more customization and ownership over where and how your items are stored within the unit. With your lock and wider access, moving your items into a self-storage unit and accessing them more freely offers better flexibility than full-service storage companies. While you can learn more from our storage facilities guide, including the revolutionary storage rental benefits PeerStorage offers, certainly, self-storage units are still a more affordable option than full-service storage facilities.
How do I book my storage space with PeerStorage?
Once you've found a storage unit in Alaska that fits your needs, you can reserve it online for free, with no credit card required! You can also reserve your unit by phone. There are no obligations, and you can cancel for free anytime. In order to put in a request, follow these simple steps:
"Sign up" with an email
Select the move-in date, introduce yourself to the host
Select "Month-to-month" or select a move-out date.
Click "Request to Book"
Done! Wait for the host to accept your booking request.
Common reasons for self-storage units
There are many reasons why you or your business would need self-storage as an option for your extra stuff. Self-storage units come in all different sizes and with many different features. What ever the reason is you looking for self-storage, this will drive what size and features you will need on a self-storage unit. Below are some of the most common reasons why you would need a self-storage unit:
Seasonal storage
During the holiday season, you tend to bring out all your Halloween, Thanksgiving, and Christmas decorations around the outside and inside of your home. These decorations are used for only three (3) months out of the year, which means they will need a safe place for the additional 9 months that they aren't being used. Self-storage units work perfectly for this occasion!
People also tend to store summer gear such as kayaks, hiking gear, and camping gear during the winter months, as it's not in any use. Then they tend to store their snowboard or ski gear, snowmobile, sled, and winter clothes during the summer months.
Storing RV, trailer, or boat
Everyone loves their toys that are like their home away from home. It is fun to go out and camp or live in your RV or trailer for the summer but come winter, these toys need a safe place to be stored. Self-storage is a great option for securely keeping your
Storing e-commerce products
With the increase in products being sold online, more and more small businesses are utilizing self-storage units to store, pack, and ship their products. Small business owners are able to basically run their small business out of a self-storage unit
Storing goods passed down from a loved one
Unfortunate things happen, and the last thing you want to do is get rid of the goods passed down to you by your loved ones that just passed. You will most likely need to get a self-storage unit to house the goods until you determine what to do with them. If a loved one passes and you are the person to take on all their goods, make sure one of the first things you do is get a self-storage unit to securely house all the goods so you can worry about what matters.
Storing extra furniture and tools
If you have got a staging business or a construction business, self-storage is a must to store your extra tools, equipment, and furniture. This is likely stuff you need once in a while or during certain occasions. Getting a self-storage unit makes it so much easier to access and organize your tools for work or whatever job you need to get done quickly.
Selling a home or moving
Nothing is more stressful than moving and packing up all your goods and moving them to a new home or location. This is one of the major needs for getting a self-storage unit. Getting a self-storage unit during moving is a stress-free way of decluttering your stuff while you try to move it back into your new home.
When moving between homes, it's common for a transition period to occur before settling into your new residence. Finding a secure place to store all your furniture and belongings during this time is essential. Finding a storage unit near your new home is vital for maximum convenience through an already hectic moving process.
Military leave or traveling
Whether you are getting deployed by the military or taking extended travel around the world. Self-storage is perfect for decreasing costs while not having to pay for a living space. You can cut costs by keeping your stuff in a self-storage unit. Self-storage provides the best solution for housing your furniture, clothes, vehicles, and personal goods.
College Storage
During the summer months, it's more than likely that college students are either moving to a new apartment, home, or dorm. As students need to move, this creates the need for a self-storage unit for the summer months. While students may not need storage during the school year, demand for college storage spikes as soon as the school year ends, and moving out begins to prompt students to search for a place to temporarily store furniture, vehicles, or possessions until the next semester begins. Self-storage facilities will raise the cost of the self-storage units at this time while also providing student discounts for the first month to get students to reserve their units. Therefore, PeerStorage is the online self-storage marketplace preferred by college students. PeerStorage units don't change price while also being 50% lower than traditional self-storage facilities.
Types of self-storage units:
Many different types of storage spaces fit many different renters. The type of self-storage space usually depends on rental rate, size of space, location, and frequency of use of the space. There is a different types of self-storage designed to protect your stored goods in various ways. Some may require climate-controlled units, some may need storage for their weekend toys (RV, trailer, boats), and some may need just a typical unit. Below are some common types of self-storage:
Business Storage
This self-storage allows business owners to run their business out of the storage space. This would best suit e-commerce businesses, lawyers' offices, staging companies, or lawn care services. There is a wide range of businesses that need frequent access to storage space that also allows renters to run a business. These types of self-storage are typically climate-controlled, so products or important papers won't be damaged by the outside elements.
RVs, trailers, and boats
These are typically outside spaces but are also available for indoor rentals. These spaces typically have power and water available for renters to winterize their vehicles when putting them into storage. RV storage is usually paved, or with gravel, so your RV doesn't sink. Spaces can be anywhere from 20' long to 50' long to fit any size motorhome or RV.
Self-storage units
Self-storage is for anyone who needs storage space, regardless if it's climate-controlled, indoor, or outdoor. Self-storage units are great for storing everyday goods, household goods, seasonal goods, outdoor gear, and extra vehicles.
Indoor storage is within the facility and typically needs access to the facility to get access. This is a more secure storage space as it adds extra security. Many self-storage facilities have climate-controlled units for an added cost due to the added features. The downside of indoor storage is that renting an indoor unit likely means running into more restrictions around when units can be accessed. Overall, indoor storage units provide the most protection, but they often come with a higher monthly rental cost.
Outdoor self-storage is a lot like indoor self-storage except for the added security features and the climate-controlled. Typical outdoor storage options might be a fenced lot or under a large awning or roof supported by posts. Outdoor storage units also allow stored items to be more directly accessible from the outside. Unlike typical self-storage buildings with indoor units, outdoor storage units often don't require you to enter a building to gain access to your unit.
Climate-controlled
This self-storage is the most expensive to rent but also the most secure and the best type of self-storage for many renters. This has a controlled heating and cooling climate that is best in all types of weather. Due to the controlled climate,
When storing temperature-sensitive items or for long periods of time, temperature changes can lead to moisture that may cause warping, mold, or rust on certain items. Climate-controlled units provide insulated indoor storage and a guaranteed temperature range (usually above freezing and below 80-90 degrees). Some climate-controlled units provide humidity control as well. Renters often choose climate-controlled storage for musical instruments, fine art, antiques, books, important documents, electronics, or certain tools and equipment. While climate-controlled storage is typically more expensive, it can save you the cost of repairing or replacing any damaged property.